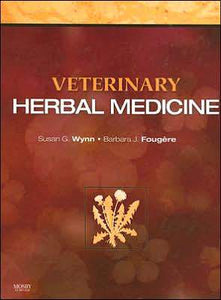 ISBN details
ISBN 10: 0323029981
ISBN 13: 9780323029988
Overview
This full-color reference offers practical, evidence-based guidance on using more than 120 medicinal plants, including how to formulate herbal remedies to treat common disease conditions. A body-systems based review explores herbal medicine in context, offering information on toxicology, drug interactions, quality control, and other key topics.
• More than 120 herbal monographs provide quick access to information on the historical use of the herb in humans and animals, supporting studies, and dosing information.

• Includes special dosing, pharmacokinetics, and regulatory considerations when using herbs for horses and farm animals.

• Expanded pharmacology and toxicology chapters provide thorough information on the chemical basis of herbal medicine.

• Explores the evolutionary relationship between plants and mammals, which is the basis for understanding the unique physiologic effects of herbs.

• Includes a body systems review of herbal remedies for common disease conditions in both large and small animals.

• Discusses special considerations for the scientific research of herbs, including complex and individualized interventions that may require special design and nontraditional outcome goals.

This full-color text and practical clinical reference provides comprehensive information on herbal remedies for both large and small animal species. Key coverage includes clinical uses of medicinal plants, specific information on how to formulate herbal remedies, a systems-based review of plant-based medicine, and in-depth information on the different animal species - dog, cat, avian and exotic, equine, food animal, and poultry. Other topics include evidence-based medicine and plant medicine research, toxicology, drug interactions, and banned substances, regulations and quality control, and nutritional uses of herbs and other plants. Offers extensive information for more than 120 herbs.
Other Details
Publisher: Mosby
Edition: 1
Dimensions: 8.80 (w) x 10.90 (h) x 1.40 (d)
Pages: 736
Date Published: 2006
Authors: Susan G. Wynn Dvm, Barbara Fougere Bvsc Bvms(hons)