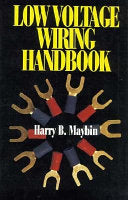 ISBN details
ISBN 10: 0070410836
ISBN 13: 9780070410831
Overview
An expert how-to guide on low voltage wiring for data processing and telecommunications equipment. The first handbook of its kind, this practical reference shows how to design, install, and maintain low voltage systems. It also discusses procedures that are affected by IEEE, NEC, ISO, and vendor group standards. Illustrations and index included.
Other Details
Publisher: Mcgraw-hill
Language: Eng
Pages: 402
Date Published: 1995
Authors: Maybin, Harry B.