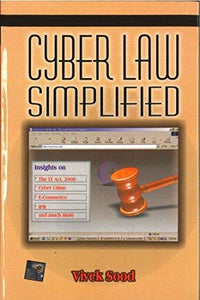 ISBN details
ISBN 10: 0070435065
ISBN 13: 9780070435063
Overview
Cyber Law Simplified presents a harmonious analysis of the key provisions of the TI Act, 2000 in consonance with the relevant aspects of several other laws of the land which impact jurisdiction in the cyber work. The book offers solutions to critical cyber-legal problems and would facilitate legal planning, decision making and cyber-legal compliance in the e-world. The simple and reader friendly style of writing would provide a clear understanding of the subject to managers in the areas of systems, business, legal, tax or human resources; CEOs; COOs; CTOs; and IT consultants.
Other Details
Publisher: Tata Mcgraw-hill Pub. Co.
Language: Eng English
Format: print
Edition: 1
Dimensions: xxv, 598 p. ; 24 cm.
Pages: 598
Date Published: 2001
Authors: Sood, Vivek.