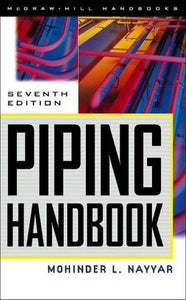 ISBN details
ISBN 10: 0070471061
ISBN 13: 9780070471061
Overview
Instant answers to your toughest questions on piping
components and systems!
It's impossible to know all the answers when piping questions are on the table - the field is just too broad. That's why even the most experienced engineers turn to Piping Handbook, edited by Mohinder L. Nayyar, with
contribution from top experts in the field. The Handbook's 43 chapters - 14 of them new to this edition ù and 9 new appendices provide, in one place, everything you need to work with any type of piping, in any type of piping system:
*design
*layout
*selection of materials
*fabrication and components
*operation
*installation
*maintenance
This world-class reference is packed with a comprehensive array of analytical tools, and illustrated with fully-worked-out examples and case histories. Thoroughly updated, this seventh edition features revised and new information on design practices, materials, practical applications
and industry codes and standards ù plus every calculation you need to do the job.
A total revision of the classic reference on piping design practice, material application, and industry standards. Table of Contents: Definitions, Abbreviations and Units; Piping Components; Piping Materials; Piping Codes and Standards; Manufacturing of Metallic Piping; Fabrication and Installation of Piping; Hierarchy of Design Documents; Design Bases; Piping Layout; Stress Analysis of Piping; Piping Supports; Heat Tracing and Piping; Thermal Insulation of Piping; Flow of Fluids; Piping Systems; Non-Metallic Piping; Thermoplastics Piping; Fiberglass Piping Systems; Conversion Tables; Pipe Properties; Tube Properties; Friction Loss for Water in Feet Per 100 Feet of Pipe. 800 illustrations.
Other Details
Publisher: Mcgraw-hill Education
Language: Eng
Edition: 7
Dimensions: 6.20 (w) x 9.30 (h) x 3.15 (d)
Pages: 2256
Date Published: 2000
Authors: Mohinder L. Nayyar