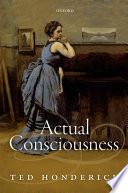 ISBN details
ISBN 10: 0198714386
ISBN 13: 9780198714385
Overview
What is it for you to be conscious? There is no consensus in philosophy or science: it has remained a mystery. Ted Honderich develops a brand new theory of consciousness, according to which perceptual consciousness is external to the perceiver.
Other Details
Publisher: Oxford University Press
Language: Eng English
Format: print
Edition: 1
Dimensions: xi, 402 pages ; 24 cm
Pages: 400
Date Published: 2014
Authors: Honderich, Ted.