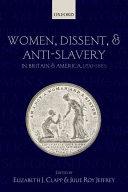 ISBN details
ISBN 10: 0198725213
ISBN 13: 9780198725213
Overview
As historians have gradually come to recognize, the involvement of women was central to the anti-slavery cause in both Britain and the United States. Like their male counterparts, women abolitionists did not all speak with one voice. Among the major differences between women were their religious affiliations, an aspect of their commitment that has not been studied in detail. Yet it is clear that the desire to live out and practice their religious beliefs inspired many of the women who participated in anti-slavery activities in the late eighteenth and early nineteenth centuries. This book examines the part that the traditions, practices, and beliefs of English Protestant dissent and the American Puritan and evangelical traditions played in women's anti-slavery activism. Focusing particularly on Baptist, Congregational, Presbyterian and Unitarian women, the essays in this volume move from accounts of individual women's participation in the movement as printers and writers, to assessments of the negotiations and the occasional conflicts between different denominational groups and their anti-slavery impulses. Together the essays in this volume explore how the tradition of English Protestant Dissent shaped the American abolitionist movement, and the various ways in which women belonging to the different denominations on both sides of the Atlantic drew on their religious beliefs to influence the direction of their anti-slavery movements. The collection provides a nuanced understanding of why these women felt compelled to fight for the end of slavery in their respective countries.
Other Details
Publisher: Oxford University Press
Date Published: 2015
Authors: Clapp, Elizabeth J.