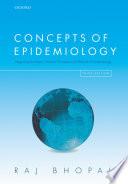 ISBN details
ISBN 10: 0198739680
ISBN 13: 9780198739685
Overview
Epidemiology is a population science that underpins health improvement and health care, by exploring and establishing the pattern, frequency, trends, and causes of a disease. Concepts of Epidemiology comprehensively describes the application of core epidemiological concepts and principles toreaders interested in population health research, policy making, health service planning, health promotion, and clinical care. The book provides an overview of study designs and practical framework for the geographical analysis of diseases, including accounting for error and bias within studies. It discusses the ways in which epidemiological data are presented, explains the distinction between association and causation, aswell as relative and absolute risks, and considers the theoretical and ethical basis of epidemiology both in the past and the future. This new edition places even greater emphasis on interactive learning. Each chapter includes learning objectives, theoretical and numerical exercises, questions and answers, a summary of the key points, and exemplar panels to illustrate the concepts and methods under consideration.Written in an accessible and engaging style, with a specialized glossary to explain and de\'1fne technical terminology, Concepts of Epidemiology is ideal for postgraduate students in epidemiology, public health, and health policy. It is also perfect for clinicians, undergraduate students andresearchers in medicine, nursing and other health disciplines who wish to improve their understanding of fundamental epidemiological concepts.
Other Details
Publisher: Oxford University Press
Language: En
Edition: 3
Pages: 480
Date Published: 2016
Authors: Bhopal, Raj S.