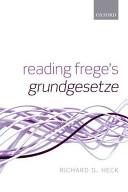 ISBN details
ISBN 10: 0198744374
ISBN 13: 9780198744375
Overview
Richard G. Heck presents a new account of Gottlob Frege's Grundgesetze der Arithmetik, or Basic Laws of Arithmetic, which establishes it as a neglected masterpiece at the center of Frege's philosophy. He explores Frege's philosophy of logic, and argues that Frege knew that his proofs could be reconstructed so as to avoid Russell's Paradox.
Other Details
Publisher: Oxford University Press, Usa
Language: En
Pages: 320
Date Published: 2015
Authors: Richard G. Heck, Jr.