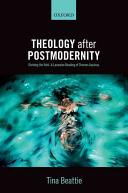 ISBN details
ISBN 10: 0198745028
ISBN 13: 9780198745020
Overview
Theology after Postmodernity is a ground-breaking study that has the capacity to transform the relationship between psychoanalytic theory and Christian theology. Reading the theology of Thomas Aquinas in close engagement with the psychoanalytic theory of Jacques Lacan, Tina Beattie shows how Thomism exerted a formative influence on Lacan, and she also shows how a Lacanian approach can bring rich new insights to Thomas's theology. A growing number of English-speaking scholars now recognize the extent to which twentieth century French theorists and philosophers were influenced by medieval theology, and there have been several studies of Jacques Lacan's Thomism. However, this is the first study published in English to bring a Lacanian feminist perspective to bear on the theology of Thomas Aquinas. Focusing on the centrality of desire in Thomas's theology and Lacan's psychoanalytic theory, Beattie follows Lacan along an overgrown and often hidden path through the changing configurations of desire, gender, and knowledge from their Aristotelian formation in the medieval universities to their fragmentation in the collapse of modernity's visions and values. Beattie offers a penetrating critique of Thomas's Aristotelianism, but she also excavates the mystical treasures within his theology. This enables her to show how Thomas's God remains an unconscious but potent influence in the shaping of modern western thought, and to ask what transformations might be needed in order to bring about a Thomism for our times. Probing beneath the surface of Thomas's Summa Theologiae and other writings, she brings to light the Other of Thomas's One God - an incarnate, maternal Trinity who emerges when Thomas's Aristotelian ontotheology is suspended and the more neglected aspects of his doctrinal and theological insights are allowed to emerge. Lacan makes possible a renewed Thomism which offers a rich theology of creation, incarnation, and redemption capable of responding to some of the most urgent and far-reaching challenges that questions of gender, nature, and God pose to Christian theological language in its classical and postmodern formations.
Other Details
Publisher: Oxford University Press
Date Published: 2015
Authors: Beattie, Tina T.