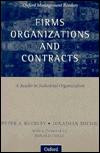 ISBN details
ISBN 10: 0198774362
ISBN 13: 9780198774365
Overview
What is a firm? Why do firms exist? How is production and administration best co-ordinated? What are the reasons for vertical integration? And disintegration? Is there a conflict between establishing and developing long-term relationships on the one hand, and the operation of free marketcompetition on the other? Is there a choice between markets and hierarchies? What about networks and clans? These questions continue to be explored with economics, management, sociology and other related disciplines.Firms, Organizations and Contracts brings together the best inter-disciplinary analysis of the topic, and contains classic contributions and material not normally seen by those outside their own particular disciplines. It combines pioneer articles with more recent discussions of an area attractinggrowing attention amongst those studying industrial organization - whether on courses in economics, management, strategy, organization, law or public administration.The volume includes Coase's initial enquiry into `The Nature of the Firm' and Ouchi's analysis of `Markets, bureaucracies and clans'; Kaldor's questioning of `The Nature of the Firm' and Dore's discussion of `Goodwill and the spirit of market capitalism'.This book will be an invaluable tool for students in economics, management and sociology. In view of the growing use of contracts within the public sector, and within the private regulated sector, the book also sets out some of the key issues of concern to policy makers and public sectorstrategists.
Other Details
Publisher: Oxford University Press
Language: Eng English
Format: Print
Edition: 1
Dimensions: Xiii, 475 P. : Ill. ; 24 Cm.
Pages: 496
Date Published: 1996
Authors: Buckley, Peter J., Michie, Jonathan.