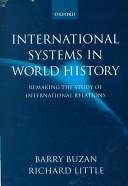 ISBN details
ISBN 10: 0198780656
ISBN 13: 9780198780656
Overview
'This is an outstandingly good book, which succeeds on many different levels.The book is exceptionally well structured and well written. There is so much in this book for so many types of scholars of International Relations. I am certain that this book will be seen over time not only as one of the most intellectually impressive mergers of theory and history in the field, but also as a massive advance on US-style neo-realism. I thoroughly enjoyed reading this book, not least because I became fascinated with the argument, and found myself nodding in admiration as the authors pulled off the feat of bringing all the elements together into a powerful and intellectually impressive discussion of the types of international system found in world history. This is one of the most important books published in the last decade and for intellectual sophistication it leave neo-realism US-style standing, but also drowning.' International Affairs 76:4 (2000) 833-4.This book tells the story of mankinds evolution from a scattering of hunter-gatherer bands to todays integrated global international political economy. It outlines the concept of international systems as a useful framework for all those interested in a big picture understanding of the evolution of human society from earliest times to the present.
Other Details
Publisher: Oxford University Press
Language: Eng English
Format: print
Edition: 1
Dimensions: xvi, 452 p. : ill., maps ; 25 cm.
Pages: 472
Date Published: 1998
Authors: Buzan, Barry.