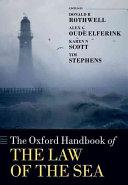 ISBN details
ISBN 10: 0198806256
ISBN 13: 9780198806257
Overview
Human activities have taken place in the world's oceans for most of human history. With the oceans being used for trade, being exploited for fisheries and mineral resources extraction, and becoming the focal point for security crises, the legal regime regulating the rights and responsibilities of nations in their use of the world's oceans has long been a crucial part of international law. The United Nations Convention on the Law of the Sea comprehensively defined the parameters of the law of the sea in 1982, and since the Convention was concluded it has seen considerable development. This Oxford Handbook provides a comprehensive and original analysis of its current debates and controversies, both theoretical and practical. Written by thirty nine expert contributors, the Handbook sets out how the law of the sea has developed, and the challenges it is currently facing. It is an invaluable and thought-provoking resource for scholar, students, and practitioners of the law of the sea.
Other Details
Publisher: Oup Oxford
Edition: 1
Pages: 1072
Date Published: 2017
Authors: Rothwell, Donald R.