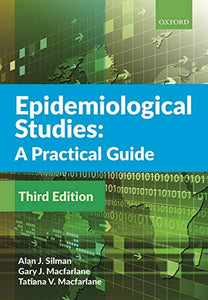 ISBN details
ISBN 10: 0198814720
ISBN 13: 9780198814726
Overview
To Successfully Conduct An Epidemiological Study, Academic Subject Knowledge Must Be Combined With Careful Consideration Of The Practical Elements Involved. From An Academic Perspective, Insights Into The Basis Of Epidemiology, The Concepts Behind How We Study Diseases, And The Challenges And Limitations Of The Results That Emerge Are Prioritised. However, The Success Of The Academic Analysis Depends On How, When, And Where The Data Used Is Collected. Epidemiological Studies: A Practical Guide Focuses On The Practical Challenges Of Epidemiological Data Collection. Essential Topics, Such As How To Choose The Population To Study, How To Maximise Participation And Retention, And How To Frame Questions So That Subjects Provide The Information Required, Are The Core Of The Material Presented. The Book Explains The Skills Needed To Conduct A Study Where Data Is Collected And Presented Accurately, And In Appropriate Formats. In Addition To Presenting A Step-by-step Guide To Epidemiological Investigations, The Chapters In The Book Are Accompanied By Examples Of How To Phrase The Letters And Forms Needed For Each Stage Of Conducting A Study. Focusing On Measurement, Study Designs, Statistics, Methodological Issues, And Key Skills, The Book Provides A Valuable Background To Epidemiological Study. With Detailed Tables And Figures, A Clear Chapter Outline, And A Straightforward Index, The Information Presented Is Easily Accessible And Can Quickly Be Applied To The Reader's Own Work. Extensively Revised, This New Edition Includes Updates On Case-crossover, Mendelian Randomisation, And Case-cohort. New Chapters Have Been Added To Reflect The Areas A Student Is Now Likely To Encounter In An Introductory Epidemiological Course, Such As Evidence Synthesis, Use Of Routine Data, Association Or Causation, Feasibility, And Pilot Studies. Epidemiological Studies: A Practical Guide Is Ideal For Students In Epidemiology, Public Health, Health Research, And Health Services Research. It Is Also Highly Relevant To Post-graduate Research Students, And Early Stage Clinical And Non-clinical Researchers.
Other Details
Publisher: Oxford University Press
Language: En
Edition: 3
Dimensions: xii, 278 pages : illustrations ; 25 cm
Pages: 300
Date Published: 2018
Authors: Silman, Alan J.