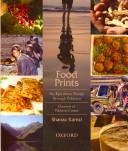 ISBN details
ISBN 10: 0199063257
ISBN 13: 9780199063253
Overview
Food Prints celebrates the diversity of food in Pakistan and is a unique effort to bring to the reader the plethora of dishes popular in the country, tracing their origin and even the legends surrounding some of them.
Other Details
Publisher: Oxford University Press
Language: Eng English
Format: print
Edition: 1
Dimensions: xv, 228 p. : col. ill. ; 26 cm.
Authors: Ramzi, Shanaz.