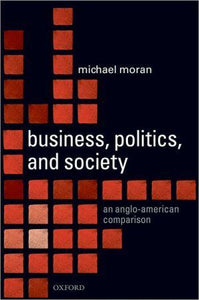 ISBN details
ISBN 10: 0199202567
ISBN 13: 9780199202560
Overview
How much power does business exercise in Britain and the United States? Are giant firms that operate on a global scale beyond the control of elected governments? Are political parties in the pocket of business interests?
All these questions go to the heart of the viability of a modern democracy, and have been given increased urgency since the end of 2007 and the economic crisis that has reverberated around the world. Business, Politics, and Society compares business and politics in two of the most important capitalist democracies: the United States and the United Kingdom. It introduces the big analytical and moral issues involved in the study of business power; traces the historical origins of business politics in the two nations; examines the role of giant firms, and the relationship between business and political parties; describes the special politics of the small business sector; scrutinizes the changing social and cultural environment of business; and sums up by raising problems of legitimacy and reward that are now the stuff of public policy. Boxed features in each chapter also extend the range of book, to business politics in the European Union, and to national systems beyond the United States and the United Kingdom.
The book will be invaluable for students of business systems who now need to grasp the political setting of business, and to students of American and British politics, who now need to grasp the impact of business power on the workings of democratic government.
Other Details
Publisher: Oxford University Press, U.s.a.
Edition: 1
Dimensions: 6.10 (w) x 9.10 (h) x 0.50 (d)
Pages: 224
Date Published: 2009-10-11
Authors: Michael Moran