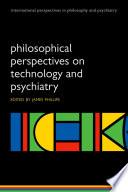 ISBN details
ISBN 10: 0199207429
ISBN 13: 9780199207428
Overview
Technology has had, and will continue to have, a major effect on the field of psychiatry - in diagnosis, treatment, and prevention. In a collection of stimulating and thought-provoking chapters, this book exams how technology has come to influence and drive psychiatry forward, and considers at just what cost these developments have been made.
Other Details
Publisher: Oxford University Press
Language: Eng English
Format: print
Edition: 1
Dimensions: vi, 318 p. ; 24 cm.
Pages: 326
Date Published: 2009
Authors: Phillips, Ed.