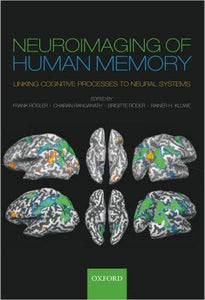 ISBN details
ISBN 10: 0199217297
ISBN 13: 9780199217298
Overview
In the past 20 years, neuroimaging has provided us with a wealth of data regarding human memory. However, to what extent can neuroimaging constrain, support or falsify psychological theories of memory? To what degree is research on the biological bases of memory actually guided by psychological theory?
In looking at the close interaction between neuroimaging research and psychological theories of human memory, this book presents a state-of-the-art exploration of imaging research on human memory, along with accounts of the significance of these findings with regard to fundamental psychological questions. The book starts with a summary of some of the conceptual problems we face in understanding neuroimaging data. It then looks at the four areas of human memory research that have been most intensively studied with modern brain imaging tools - Learning and consolidation, Working memory control processes and storage, Long-term memory representations, and Retrieval control processes. Throughout, the book shows how brain imaging methods, such as functional magnetic resonance imaging (fMRI) and electroencephalography (EEG), can help us increase our knowledge of how human memory is organized, how memory representations are stored, consolidated and retrieved, and how access to memory contents is controlled. With all chapters written by leading researchers in the field, the book will be essential for all those interested in the psychology and neuroscience of memory.
Other Details
Publisher: Oxford University Press
Language: Eng English
Edition: 1
Dimensions: 6.90 (w) x 9.80 (h) x 1.10 (d)
Pages: 488
Date Published: 2009
Authors: Rösler, Frank.