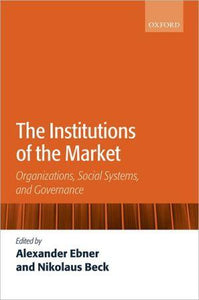 ISBN details
ISBN 10: 0199231427
ISBN 13: 9780199231423
Overview
This book approaches markets as a dynamic ensemble of institutions; and as a set of rules or norms, that contribute to the evolution of social systems of governance, and can be analysed as a structured social system. It tackles such questions as:
* Where do markets come from and what drives their evolution?
* How do organizations cope with the competitive dynamism of markets?
* What is the role of governance mechanisms in the institutional coordination of markets?
Using this "new institutionalist" approach, an international group of leading scholars examine the institutional foundations of economic change. Drawn from an array of disciplines, including Business, Organization Studies, Economics, and Sociology, the contributors address the organizational capabilities of firms, the social structuration of competition, and the diversity of governance mechanisms in the market.
Contributors include:
Nikolaus Beck, Christophe Boone, Robert Boyer, Alexander Ebner, Neil Fligstein, Henrich R. Greve, John Harriss, Bob Hinings, Geoffrey M. Hodgson, Bob Jessop, Alfred Kieser, Namrata Malhotra, Renate E. Meyer, Richard R. Nelson, Rudolf Richter, Peter Walgenbach, Filippo Carlo Wezel, Sidney G. Winter, and Arjen Van Witteloostuijn.
Other Details
Publisher: Oxford University Press
Language: Eng English
Format: print
Edition: 1
Dimensions: x, 412 p. : ill. ; 25 cm.
Pages: 352
Date Published: 2008
Authors: Ebner, Alexander., Beck, Nikolaus.