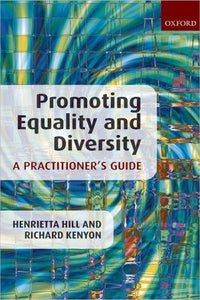 ISBN details
ISBN 10: 0199235457
ISBN 13: 9780199235452
Overview
Promoting Equality and Diversity: A Practitioner's Guide explains the fundamental changes in the approach to achieving equality and diversity that are occuring as a result of recent UK legislation. The work takes a task-based approach to the subject, suggesting legal solutions to discrete practical problems, and providing clear, pragmatic guidance to enable practitioners to tackle the individual problems they might encounter.
This book provides a clear and practical explanation of both good practice and the legislation behind the new proactive approach that is being adopted. It covers areas that receive no treatment elsewhere and offers guidance to organizations that want to implement equality measures but are unsure of how to do so. This book not only explains the relevant legal concepts but also offers real practical advice on topics such as how to carry out impact statements; how to carry out equality pay audits; and the role of monitoring.
By adopting a task-based approach, focusing on what organizations have to deal with in practice, this work is able to offer a fully-integrated legal analysis of current discrimination law that will be of use to every practitioner working in this field. By combining a traditional legal approach with examples, checklists, and precedents the authors have produced a book that is both highly useful and extremely readable.
Other Details
Publisher: Oxford University Press 2007-12-27
Edition: 1
Dimensions: 9.10 (w) x 6.10 (h) x 1.10 (d)
Pages: 350
Date Published: 2007
Authors: Hill, Henrietta