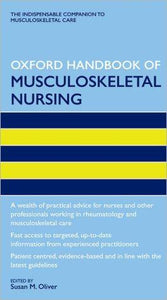 ISBN details
ISBN 10: 0199238332
ISBN 13: 9780199238330
Overview
Rheumatic diseases are the most frequently self-reported, long-standing conditions in the UK and there is an increasing demand for rheumatology services in both hospital and community-based environments. There are currently many drivers for change within the field of musculoskeletal nursing, particularly as the elderly and obsese populations, and those with chronic long-term conditions, are set to rise. In addition, there will now be a stronger emphasis on nurses and practitioners in primary care managing many more patients who were traditionally referred to secondary care.
The demand for more rheumatology services has already been identified by the Department of Health with the launch of the Musculoskeletal Strategy Framework. Nurses and other practitioners need to develop their expertise within this field, and the Oxford Handbook of Musculoskeletal Nursing is the ideal tool to help them do so.
Providing busy practitioners with information relevant to delivering care, the handbook is an easily accessible, practical, informative and up-to-date quick reference guide for those with limited support or knowledge of these conditions who want to know the key components of care and when to refer to specialist members of the musculoskeletal services. Topics include a refresher on key principles of musculoskeletal conditions, and detailed information on the most common musculoskeletal conditions including rheumatoid arthritis, osteoarthritis, osteoporosis, and chronic pain. Pharmacological management approaches begin with the consultation and assessment process and build on this information in relation to specific therapies and monitoring side effects and outcomes of treatments. A specific area of interest for many readers will be guidance on the new generation of therapies (biologics) that will increasingly become an area of specialist nursing expertise.
Clearly laid-out and written in readable note-based style with many illustrations, diagrams, and resources to aid the reader, the Oxford Handbook of Musculoskeletal Nursing is an invaluable companion to community nurses, ward nurses, and all those working with patients with musculoskeletal conditions.
Other Details
Publisher: Oxford University Press
Language: Eng
Edition: 1
Dimensions: 3.90 (w) x 7.00 (h) x 0.80 (d)
Pages: 616
Date Published: 2009
Authors: Oliver, Susan M.