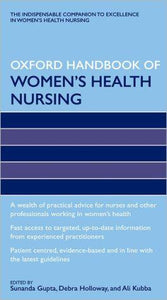 ISBN details
ISBN 10: 0199239622
ISBN 13: 9780199239627
Overview
Successful gynaecological treatment relies on a balanced partnership between the women and health professional. Women require sufficient knowledge to understand their conditions and treatments, and the
Oxford Handbook of Women's Health Nursing
is unique in helping practitioners assist women in making informed choices about treatment and keeping up to date wtih developments.
Focusing on practical care pathways for common gynaecological conditions, the Oxford Handbook of Women's Health Nursing is a concise and handy reference on women's health for nurses and other health professionals working in primary care, community, health promotion or acute settings. The book starts by setting the scene and discussing the role of nurses and systematically progresses onto anatomy and physiology which underpin gynaecological practice. It includes sections on gynaecology in the community, gynaecology in the wards, specialist gynaecology, and wider sexual health including sexually transmitted infections. Where there are specialist nursing roles or considerations, these are noted within each chapter.
The book includes illustrations and diagrams to guide the reader, along with references to guidelines, charities, and other useful resources. It is clearly laid out, and written in an easily readable note-based style. Blank pages are included for the reader so that notes, observations, and local protocols can be recorded.
Chapter authors are all specialists in the area they have authored and provide state of the art views of topics. The book is user-friendly, clearly indexed and pocket-sized, and is a useful companion to those working in the field of women's health.
Other Details
Publisher: Oxford University Press
Edition: 1
Dimensions: 7.00 (w) x 4.00 (h) x 0.80 (d)
Pages: 563
Date Published: 2009
Authors: Sunanda Gupta, Debra Holloway