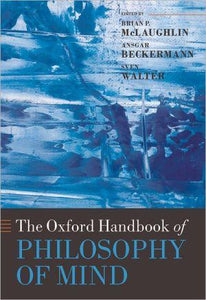 ISBN details
ISBN 10: 0199262616
ISBN 13: 9780199262618
Overview
The study of the mind has always been one of the main preoccupations of philosophers, and has been a booming area of research in recent decades, with remarkable advances in psychology and neuroscience. Oxford University Press now presents the most authoritative and comprehensive guide ever published to the philosophy of mind.
An outstanding international team of contributors offer 45 specially written critical surveys of a wide range of topics relating to the mind. The first two sections cover the place of the mind in the natural world: its ontological status, how it fits into the causal fabric of the universe, and the nature of consciousness. The third section focuses on the much-debated subjects of content and intentionality. The fourth section examines a variety of mental capacities, including memory, imagination, and emotion. The fifth section looks at epistemic issues, in particular regarding knowledge of one's own and other minds. The volume concludes with a section on self, personhood, and agency.
The Oxford Handbook of Philosophy of Mind will be an invaluable resource for advanced students and scholars of philosophy, and also for researchers in neighboring disciplines seeking a high-level survey of the state of the art in this flourishing field.
Other Details
Publisher: Claredon Press Oxford University Press
Language: Eng English
Format: print
Dimensions: xv, 815 p. ; 26 cm.
Pages: 832
Date Published: 2009
Authors: Brian P. McLaughlin, Ansgar Beckermann, Sven Walter