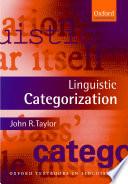 ISBN details
ISBN 10: 0199266646
ISBN 13: 9780199266647
Overview
This text provides a readable and clearly articulated introduction to the field of cognitive linguistics. It explores the far-reaching implications of Eleanor Rosch's seminal work on categorization and prototype theory, extending the application of prototype theory from lexical semantics to morphology, syntax and phonology. The third edition is fully revised and updated to include the considerable developments in cognitive linguistics since 1987. It covers contemporary research on polysemy, meaning relatedness and metaphors, as well as expanding the discussion of syntactic categories and the relevance of computer simulations.
Other Details
Publisher: Oxford University Press
Language: Eng English
Format: print
Edition: 3
Dimensions: xv, 308 p. : ill. ; 25 cm.
Date Published: 2003
Authors: Taylor, John R.