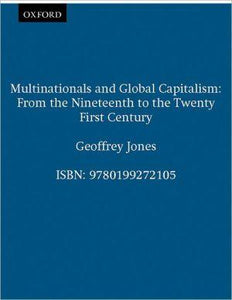 ISBN details
ISBN 10: 0199272107
ISBN 13: 9780199272105
Overview
This book provides a unique contribution to contemporary globalization debates by providing an accessible survey of the growth and role of multinational enterprises in the world economy over the last two hundred years. The author shows how entrepreneurs built a global economy in the nineteenth century by creating firms that pursued resources and markets across borders. It demonstrates how multinationals shifted strategies as the first global economy disintegrated in the political and economic chaos between the two world wars, and how they have driven the creation of the contemporary global economy.
Many of the issues of the global economy have been encountered in the past. This book shows how entrepreneurs and managers met the political, ethical, cultural and organizational challenges of operating across national borders at different times and in different environments. The role of multinationals is placed within their wider political and economic context. There are chapters on the impact of multinationals, and on relations with governments.
The focus on the shifting roles of firms and industries over time rather than abstract trade and capital flows provides compelling evidence on the diversity and discontinuities of the globalization process. The book explains the history of multinationals across a wide spectrum of manufacturing, service and natural resource industries from an international perspective, which ranges widely across different countries. It provides an essential historical framework for understanding global business.
An accessible survey of the history of international business worldwide, this book will be key reading for students taking courses in International Business, Business History, Multinationals, and Entrepreneurship; and of interest to academics and researchers working in these areas.
Other Details
Publisher: Oxford University Press, U.s.a.
Edition: 1
Dimensions: 9.60 (w) x 7.40 (h) x 0.70 (d)
Pages: 352
Date Published: 2005-02-24
Authors: Geoffrey Jones