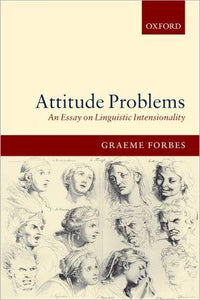 ISBN details
ISBN 10: 0199274940
ISBN 13: 9780199274949
Overview
Ascriptions of mental states to oneself and others give rise to many interesting logical and semantic problems. Attitude Problems presents an original account of mental state ascriptions that are made using intensional transitive verbs such as "want," "seek," "imagine," and "worship." Forbes offers a theory of how such verbs work that draws on ideas from natural language semantics, philosophy of language, and aesthetics.
Other Details
Publisher: Clarendon Oxford University Press
Language: Eng English
Format: print
Dimensions: xi, 194 p. : ill. ; 21 cm.
Pages: 206
Date Published: 2006
Authors: Forbes, Graeme.