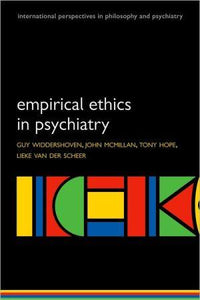 ISBN details
ISBN 10: 0199297363
ISBN 13: 9780199297368
Overview
Psychiatry presents a unique array of difficult ethical questions. However, a major challenge is to approach psychiatry in a way that does justice to the real ethical issues. Recently there has been a growing body of research in empirical psychiatric ethics, and an increased interest in how empirical and philosophical methods can be combined. Empirical Ethics in Psychiatry demonstrates how ethics can engage more closely with the reality of psychiatric practice and shows how empirical methodologies from the social sciences can help foster this link.
The book is divided into two sections. In the first section there are discussions of the possibility of empirical ethics from a theoretical standpoint and an overview of the history of empirical medical ethics in general. The second, larger section is made up of chapters, discussing specific research projects in empirical psychiatric ethics. The contributors reflect on their choice of method: how and why they combine empirical and philosophical work, and how the two approaches relate to each other. The chapters in the second part thus have two purposes. The first is to present examples of empirical ethics in psychiatry; the second is to reflect on the way in which empirical research can support ethical analysis.
Empirical Ethics in Psychiatry is a unique contribution to bioethics and will be fascinating reading for all those working within the field, as well as mental health care professionals.
Other Details
Publisher: Oxford University Press
Language: Eng
Edition: 1
Dimensions: 9.10 (w) x 6.00 (h) x 0.50 (d)
Pages: 264
Date Published: 2008
Authors: Widdershoven, Guy