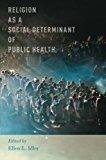 ISBN details
ISBN 10: 0199362211
ISBN 13: 9780199362219
Overview
This Text Explores The Complex, Multifaceted Role Of Faith Traditions In Public Health Throughout History, Today, And In The Future. The Volume Brings Together Leading Scholars In The Social Sciences, Public Health, And Religion To Address The Important Yet Often Neglected Role Of Religious Institutions In Health And Development Efforts Around The Globe. Foreword / James W. Curran -- Preface. Religious Literacy Is A Twenty-first-century Skill / Ellen Idler And Laurie Patton -- Religion: The Invisible Social Determinant / Ellen Idler -- Introduction To Part 1. Public Health In The Practices Of The World's Faith Traditions. Refuge Meditation In Contemporary Buddhism / Geshe Lobsang Tenzin Negi And Brendan Ozawa-de Silva -- Taiji (t̕ai-chi) In Taoism / Eric Reinders -- Veiling In Islam: A Western Feminist Outsider's Perspective / Kathryn M. Yount -- Vegetarianism In Seventh-day Adventism / George H. Grant And Jose Montenegro -- The Eucharist In Roman Cathoilicism / Phillip M. Thompson -- Congregational Hymn Singing In Mainline Protestantism / Don E. Saliers -- Hatsumōde, The Visitation Of Shinto Shrines: Religion And Culture In The Japanese Context / Chikako Ozawa-de Silva -- Fasting In Islam / Abdullahi An-na'im -- Circumcision In Judaism: The Sign Of The Covenant / Don Seeman -- Puberty Rites In African Religious Traditions: Kloyo Peemi / Emmanuel Yartekwei Amugi Lartey -- Baptism By Immersion In Latin American Pentecostalism: The Santa Cruz Case / L. Wesley De Souza -- Cremation Rites In Hinduism: Death, After Death, And Thereafter / Bhagirath Majmudar -- Introduction To Part 2. Religion In The History Of Public Health. Christian Commitment To Public Well-being: John Wesley's Sensible Regimen And Primitive Physick / Karen D. Scheib -- Us Public Health Reform Movements And The Social Gospel / John Blevins -- Anthony Comstock: A Religious Fundamentalist's Negative Impact On Reproductive Health / Lynn Hogue And Carol Hogue -- Introduction To Part 3. Religion And Public Health Across The Life Course. Religion And Reproductive Health / Laura M. Gaydos And Patricia Z. Page -- Religion And Physical Health From Childhood To Old Age / Ellen Idler -- Religion, Spirituality, And Mental Health: Toward A Preventive Model Based On The Cultivation Of Basic Human Values / Brendan Ozawa-de Silva -- Introduction To Part 4. Religion And Public Health Across The Globe. Religion And Global Health / Peter J. Brown -- The Christian Medical Commission And The World Health Organization / Matthew Bersagel Braley -- Ingenious Institutions: Religious Origins Of Health And Development Organizations / Ellen Idler -- Mapping Religious Resources For Health: The African Religious Health Assets Programme / James R. Cochrane, Deborah Mcfarland, And Gary R. Gunderson -- Introduction To Part 5. Religion And Three Public Health Challenges Of Our Time. Hiv/aids / Safiya George Dalmida And Sandra Thurman -- Influenza Pandemic / Mimi Kiser And Scott Santibañez -- Alzheimer's Disease And Dementias / Kenneth Hepburn And Theodore M. Johnson Ii -- Conclusion: Religion's Role As A Social Determinant Of Twenty-first-century Health: Perspectives From The Disciplines / Paul Root Wolpe, Walter Burnett, And Ellen Idler. Edited By Ellen L. Idler. Includes Bibliographical References And Index.
Other Details
Publisher: Oxford University Press
Language: Eng English
Edition: 1
Pages: 464
Date Published: 2014
Authors: Idler, Ellen L.