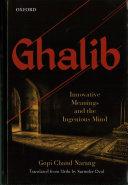 ISBN details
ISBN 10: 0199475911
ISBN 13: 9780199475919
Overview
Interpretations of Mirza Ghalib's works have been changing with the times. Romantics, classicists, progressives, and modernists, all have found evidence in his writings that appeared close to their viewpoints. This work studies the ingenious poetics of Ghalib by tracing the roots of his creative consciousness and enigmatic thought in Buddhist dialectical philosophy, in particular in Nagarjuna's concept ofshunyata(emptiness or voidness). The author also underscores the importance of the Sabke Hindi tradition, that is, the Indian style of Mughal Persian poetry with indigenized poetics, especially through Abdul-Qadir Bedil, whom Ghalib considered his mentor. He contends that Ghalib reinvented and polished this tradition deploying the dialectical mode and the language of silence he mastered through his understanding of the ancient philosophy of India under the influence of his mentor Bedil of the Sabke Hindi tradition. Creativity is a complex matter where nothing is cut numerically to the preconceived notions. The charm of love poetry of Ghalib comes from his complexity and ingenuity. This has been established through the study in this book that makes it exciting and revealing. Gopi Chand Narang engages with Ghalib criticism that has flourished since his death and analyses the important works of the poet, including pieces from earlyNuskhas andDivan-e Ghalib, using this central argument.
Other Details
Publisher: Oxford Univ Pr
Language: Eng English
Format: print
Edition: 1
Dimensions: p. cm.