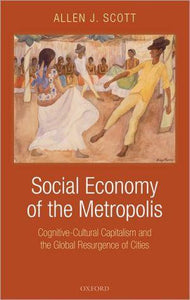 ISBN details
ISBN 10: 0199549303
ISBN 13: 9780199549306
Overview
This book is about the renaissance of cities in the twenty first century and their increasing role as centers of creative economic activity. It attempts to put some conceptual and descriptive order around issues of urbanization in the contemporary world, emphasizing the idea of the social economy of the metropolis, which is to say, a view of the urban organism as an intertwined system of social and economic life played out through the arena of urban space.
The book opens with a review of some essentials of urban theory, the book aims to re-articulate the urban question in a way that is relevant to city life and politics in the present era. It then analyses the functional characteristics of the urban economy, with special reference to the rise of a group of core sectors such as media, fashion, music, etc., focused on cognitive and cultural forms of work. These sectors are growing with great rapidity in the world's largest cities at the present time, and they play a major role in the urban resurgence that has been occurring of late. The discussion then explores the spatial ramifications of this new economy in cities and the ways in which it appears to be ushering in major shifts in divisions of labor and urban social stratification, as marked by a growing divide between a stratum of elite workers on the one side and a low-wage proletariat on the other.
Allen Scott is one of the world's foremost thinkers on the economies of modern cities, and in this book presents a concise introduction to his innovative and insightful perspective.
Other Details
Publisher: Oxford University Press
Language: Eng English
Format: print
Edition: 1
Dimensions: xiv, 182 p. : ill., maps ; 23 cm.
Pages: 224
Date Published: 2009
Authors: Allen J. Scott