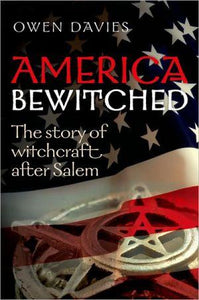 ISBN details
ISBN 10: 0199578710
ISBN 13: 9780199578719
Overview
The infamous Salem witch trials of 1692 are etched into the consciousness of America. Nineteen people executed, one tortured to death, four others perished in jail--the tragic toll of Salem remains a powerful symbol of the dangers of intolerance and persecution. As time passed, the trials were seen as a milepost measuring the distance America had progressed from its benighted past. Yet the story of witchcraft did not end in Salem. As Owen Davies shows in
America Bewitched,
a new, long, and chilling chapter was about to begin.
Davies, an authority on witches and the supernatural, reveals how witchcraft in post-Salem America was not just a matter of scary fire-side tales, Halloween legends, and superstitions: it continued to be a matter of life and death. If anything, witchcraft disputes multiplied as hundreds of thousands of immigrants poured into North America, people for whom witchcraft was still a heinous crime. Davies tells the story of countless murders and many other personal tragedies that resulted from accusations of witchcraft among European Americans-as well as in Native American and African American communities. He describes, for instance, the impact of this belief on Native Americans, as colonists-from Anglo-American settlers to Spanish missionaries-saw Indian medicine men as the Devil's agents, potent workers of malign magic. But Davies also reveals that seventeenth-century Iroquois--faced with decimating, mysterious diseases--accused Jesuits of being plague-spreading witches. Indeed, the book shows how different American groups shaped each other's languages and beliefs, sharing not only our positive cultural traits, but our fears and weaknesses as well.
America Bewitched is the first book to open a window on this fascinating topic, conjuring up new insights into popular American beliefs, the immigrant experience, racial attitudes, and the development of modern society.
Other Details
Publisher: Oxford University Press
Language: Eng English
Edition: 1
Dimensions: 6.30 (w) x 9.40 (h) x 1.40 (d)
Pages: 384
Date Published: 2013
Authors: Owen Davies