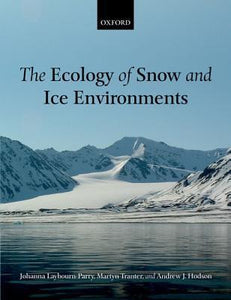 ISBN details
ISBN 10: 0199583080
ISBN 13: 9780199583089
Overview
Snow and ice environments support significant biological activity, yet the biological importance of some of these habitats, such as glaciers, has only recently gained appreciation. Collectively, these ecosystems form a significant part of the cryosphere, most of which is situated at high latitudes. These ice environments are important sentinels of climate change since the polar regions are presently undergoing the highest rates of climate warming, resulting in very marked changes in the extent of ice caps, glaciers, and the sea ice. Glacial systems are also regarded as an analogue for astrobiology, particularly for Mars and the moons of Jupiter (e.g. Europa), and one of the justifications for research in this area is its potential value in astrobiology. This timely and accessible volume draws together the current knowledge on life in snow and ice environments. It describes these often complex and often productive ecosystems, their physical and chemical conditions, and the nature and activity of the organisms that have colonised them. The cryosphere is the domain of extremophiles, organisms able to adapt to the physiological and biochemical challenges of harsh cold conditions where liquid water may only be present for relatively short periods each year. The majority of extremophiles in ice and snow are microorganisms. The Ecology of Snow and Ice Environments is intended for the non-specialist, enabling environmental scientists to understand the biological functioning of extreme cold environments and for biologists to gain knowledge of the nature of the cryosphere.
Other Details
Publisher: Oxford University Press
Language: Eng English
Format: print
Edition: 1
Dimensions: x, 179 p., [8] p. of plates : ill. (some col.), maps (some col.) ; 25 cm.
Date Published: 2012
Authors: Laybourn-parry, Johanna.