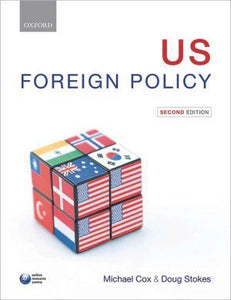 ISBN details
ISBN 10: 0199585814
ISBN 13: 9780199585816
Overview
Bringing together contributions from a number of the world's leading experts,
U.S. Foreign Policy,
Second Edition, provides the most comprehensive introduction to the topic available. The second edition includes includes two new chapters--an assessment of Barack Obama's use of smart power and a debate about whether the U.S. is in a state of decline or not. All chapters have been updated in order to address important developments like the effects of the global financial crisis, the on-going conflict in Afghanistan, and political uprisings in the Middle East. This edition also include maps of the key regions discussed in the text.
U.S. Foreign Policy, Second Edition, integrates exceptional pedagogical features throughout, including readers' guides, key points, questions, guides to further reading, text boxes, and a glossary. An accompanying companion website offers an interactive timeline, an interactive map, multiple-choice questions, monthly commentaries, a flashcard glossary, essay questions, and seminar questions and activities.
Other Details
Publisher: Oxford University Press
Language: Eng English
Format: print
Edition: 2
Dimensions: xvii, 482 pages : illustrations, maps ; 25 cm
Pages: 508
Date Published: 2012
Authors: Michael Cox, Doug Stokes