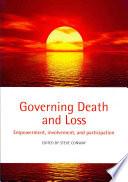 ISBN details
ISBN 10: 0199586179
ISBN 13: 9780199586172
Overview
Political, economic, social, cultural and technological changes have led to profound transformations in the ways that death and loss are perceived and managed in contemporary society. Over the last few decades, the long term shift to chronic illness as a major causal factor has significantly increased the time scale of dying. Most people die in institutions and 'care' is typically medical. Many communities and ordinary citizens now relinquish control and involvement to experts in the last stages of life. However, at global and local levels, new institutional arrangements are emerging to govern the changing face of death, and a new model is being developed to counter claims of the 'creeping medicalisation' of death and dying. Emphasising the international context of the issues involved, this book illustrates the interlinking nature of society, death and loss, and gives examples of governance that promotes the empowerment, participation and the increasing need for the involvement of ordinary people and communities in differing social and cultural contexts. All chapters are written at an accessible level and will appeal to a wide readership. Part 1 of the book provides a sociological understanding of the governance of death and loss in international and historical contexts, and the implications for practice. Part 2 provides examples of good practice, drawing upon a sociological understanding.
Other Details
Publisher: Oxford University Press
Language: Eng English
Format: print
Edition: 1
Dimensions: xiv, 152 p. : ill. ; 25 cm.
Pages: 144
Date Published: 2011
Authors: Conway, Stephen.