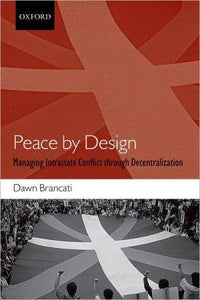 ISBN details
ISBN 10: 0199587442
ISBN 13: 9780199587445
Overview
Why does political decentralization seem reduce intrastate conflict more in some countries than in others? This question constitutes the central focus of
Peace by Design
. Brancati argues that the ability of decentralization to reduce intrastate conflict hinges on the electoral strength of regional parties. According to Brancati, regional parties tend to promote intrastate conflict by creating regional identities, advocating legislation harmful to other regions and regional minorities, and mobilizing groups to engage in conflict or supporting extremist organizations that do. Brancati also highlights a number of conditions under which regional parties are more likely to promote conflict, such as democratic transitions.
Brancati further argues that decentralization increases the strength of regional parties depending on particular features of decentralization (i.e., the proportion of legislative seats a region possesses, the number of regional legislatures in a country, the upper house election procedures, the sequencing of national and regional elections). These features of decentralization vary across countries and are fundamental to explaining why decentralization is not effective in reducing conflict in all countries.
Brancati's ultimate conclusion is that decentralization can be effectively designed to promote peace, as long as it is designed to encourage statewide parties to incorporate regional parties into their agendas and to limit the strength of regional parties. The author provides compelling evidence for her argument through three detailed cases studies (e.g., Czechoslovakia, Spain, and India) and a rigorous quantitative analysis in which she introduces a new dataset on constituency-level elections that will prove an invaluable resource for many future studies.
Other Details
Publisher: Oxford University Press, USA
Format: Paperback
Edition: 1
Dimensions: 6.10 (w) x 9.10 (h) x 0.80 (d)
Pages: 320
Date Published: February 2011
Authors: Dawn Brancati