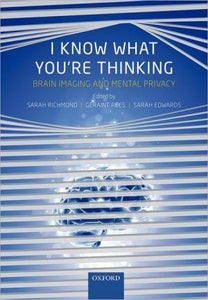 ISBN details
ISBN 10: 0199596492
ISBN 13: 9780199596492
Overview
Since the 1980s, MRI scanners have told us much about brain function and played an important role in the clinical diagnosis of a number of conditions - both in the brain and the rest of the body. Their routine use has made the diagnosis of brain tumours and brain damage both quicker and more accurate. However, some neuroscientific advances, in particular those that relate specifically to the mind have provoked excitement and discussion in a number of disciplines. One of the most thought provoking developments in recent neuroscience has been the progress made with 'mind-reading'. There seems nothing more private than one's thoughts, some of which we might choose to share with others, and some not. Yet, until now, little has been published on the particular issue of privacy in relation to 'brain' or 'mind' reading.
I know what you're thinking provides a fascinating, interdisciplinary account of the neuroscientific evidence on 'mind reading', as well as a thorough analysis of both legal and moral accounts of privacy. It brings together leading academics from the fields of psychology, neuroscience, philosophy, and law. The book considers such issues as the use of imaging to detect awareness in those considered to be in a vegetative state. It looks at issues of mental imaging and national security, the neurobiology of violence, and issues regarding diminished responsibility in criminals, and thus reduced punishment. It also considers how the use of neuroimaging can and should be regulated.
Providing a ground breaking exploration of how brain imaging technologies can throw light on our mental capacities, states, and acts, this is an important new book for psychologists, neuroscientists, bioethicists, philosophers, and lawyers.
Other Details
Publisher: Oxford University Press
Language: Eng English
Format: print
Edition: 1
Dimensions: viii, 271 p. : ill. ; 26 cm.
Pages: 288
Date Published: 2012
Authors: Sarah D. Richmond, Geraint Rees, Sarah J. L. Edwards