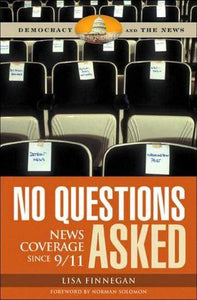 ISBN details
ISBN 10: 0275993353
ISBN 13: 9780275993351
Overview
No Questions Asked takes an overarching view of media coverage from the day of the 9/11 attacks through the war in Iraq. It also compares and contrasts how the U.S. media vs. international media covered key events during this period. Fact-based rather than polemical, the book explains why journalists responded the way they did during wartime and explores the ramifications for democracy of a weak press.
The Fourth Estate's most important job is to present unbiased, accurate information about events, issues, and policies to the public. Without public scrutiny, administrations can become a breeding ground for bad and dangerous ideas.
In recent years, for several reasons—including the brilliant psychological manipulation of the nation after the September 11, 2001, attacks—the American media have allowed administration officials to present information to the public without having to worry much about answering uncomfortable questions or having their policies deconstructed for public consumption. Relevant information is buried deep inside newspapers, and gaping holes can be found in many stories; in short, obvious and important questions remain unasked.
The lack of questions from reporters led to a misunderstanding of the facts by the American public and, consequently, to their support of policies based on misinformation. Polls have revealed that more than half of Americans believe mistruths about the war in Iraq and world terrorism. Many, including members of the media, say the press has failed to do its job. Very few news reports filled in the basic blanks—the who, what, where, when, and whys—about U.S. foreign policy, the USA Patriot Act, the administration's insistence on the need for secrecy and more power, the truth about weapons of mass destruction in Iraq, and the necessity of sending our soldiers to topple another country's dictator, throwing an already tenuous region into dangerous imbalance. Very few reports are filling in those blanks now.
Other Details
Publisher: Praeger
Language: Eng English
Dimensions: 6.50 (w) x 9.30 (h) x 1.30 (d)
Pages: 216
Date Published: 2006
Authors: Lisa Finnegan