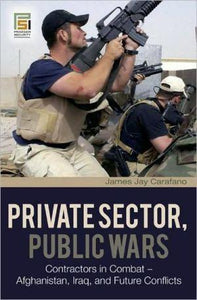 ISBN details
ISBN 10: 0275994783
ISBN 13: 9780275994785
Overview
Contractors are big business and a big part of war, with businesses taking upon themselves many tasks previously designated to the armed forces. By 2007, there were over 100,000 individuals working on U.S. contracts in Iraq and Afghanistan-versus about 160,000 U.S. combat troops. By some estimates, contractors account for some 40 percent of the costs of running operations.
This important work examines how that came to be, as well as answering a number of critical questions: How have Congress, public interest groups, and other parties dealt with the issue? How is the marketplace affecting the American way of war? What impact will this have on force structure? How will the growing involvement of the private sector influence such matters as the all-volunteer force and the procurement and maintenance of advanced warfighting systems?
The emergent role of contractors on the battlefield reflects a deeply significant transition in the nature of armed conflict, a significant rebalancing between the roles of the private and public sectors. This change is the most significant upheaval in the nature of warfare since the rise of the nation-state in the 17th century. It represents a transformation started long before the invasion of Iraq and, absent a dramatic change in the evolution of the global marketplace, it will continue to increase, regardless of the course of American domestic politics. Government will have to change to keep up.
Understanding why the private sector has come to play such a prominent role in public wars requires tracing a story as torturous and, at times, mysterious as the search for the Holy Grail, a tale filled with deceit, greed, courage, selflessness, stupidity, misdirection, and myth. It includes following a winding path from Medieval Tuscan hills, to England, to colonial America, to the sands of Iwo Jima and of Iraq, the mountains of Afghanistan, the corridors of Wall Street, and the halls of the Pentagon. It demands walking through the cross sections of military, political, social, cultural, economic, intellectual, and business history. At the end of the journey lies the unvarnished truth about contractors in combat. That is the story Private Sector, Public Wars means to tell.
Other Details
Publisher: Praeger Security International
Language: Eng English
Format: print
Edition: New Edition
Dimensions: 242 p. ; 25 cm.
Pages: 242
Date Published: 2008
Authors: Carafano, James Jay , 1955-