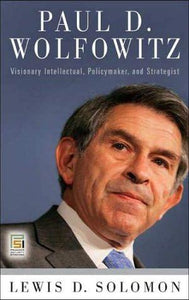 ISBN details
ISBN 10: 0275995879
ISBN 13: 9780275995874
Overview
With the announcement of his resignation from the World Bank, the ongoing saga of Paul Wolfowitz, played out in the front pages of the world's newspapers, came to a dramatic conclusion. Paul D. Wolfowitz, as columnist George F. Will wrote in the Washington Post (May 12, 2005), has never been elected to office or served in a president's cabinet, but he has mattered much more than most who have. A longtime State Department hand (Assistant Secretary of State for East Asian and Pacific Affairs, Ambassador to Indonesia), a leading scholar/intellectual (Dean of the Johns Hopkins School of Advanced International Studies), Deputy Secretary of Defense for four years, and one of the architects of the Bush Doctrine, Wolfowitz is a crucial figure in post-Cold War foreign and security policy. He most recently served as President of the World Bank. In each of these roles, he has stood out for his neoconservative and often uncompromising positions. It is no wonder that he is often vilified by the Left and lionized by the Right. In this first full-length biography of Wolfowitz, Solomon attempts to capture him not by delineating the quotidian details of his career, but by tracing his intellectual development and bureaucratic influence at key points along the road to Baghdad and beyond.
Other Details
Publisher: Praeger Security International
Language: Eng English
Format: print
Dimensions: 209 p. ; 25 cm.
Pages: 216
Date Published: 2007
Authors: Solomon, Lewis D.