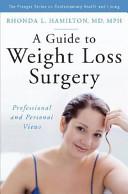 ISBN details
ISBN 10: 0275997820
ISBN 13: 9780275997823
Overview
"Traditional weight-loss programs such as diet, exercise, and pharmaceuticals, are only effective for significant and sustained weight loss for about 10 percent of all people who try. The results are even more dismal for the obese aiming to lose 50, 75, or more pounds. Yet, the health of these individuals lies in the balance, because obesity or morbid obesity (100 pounds or more overweight by medical standards) increases by 50 to 100 percent the risk of developing heart disease, high blood pressure, diabetes, and certain cancers. Weight-loss surgery is effective in bringing 80 percent of obese people to or close to average weight for their height, explains Dr. Hamilton, an Instructor at Harvard Medical School. Even more impressive, most sustain that weight loss for at least 10 years." "Hamilton doesn't perform such surgeries, but this Tufts-educated doctor has more than general medical insight. She had the surgery herself six years ago, reducing from the size 20 she was then to the size 8 she is now." "In A Guide to Weight Loss Surgery, Hamilton makes clear the rewards, and the risks, of surgery that reduces stomach size or removes a piece of the intestine so calories cannot be absorbed. Her book includes interviews with previously obese males and females who've had the surgery, as well as descriptions of the procedures, recovery times, costs, and insurance issues."--BOOK JACKET.
Other Details
Publisher: Praeger
Pages: 204
Date Published: 2008
Authors: Rhonda L. Hamilton M.d.