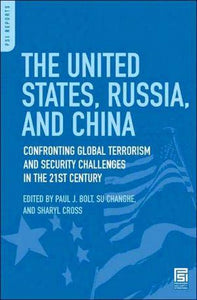 ISBN details
ISBN 10: 0275998940
ISBN 13: 9780275998943
Overview
In the brief experience the world has had during the post-9/11 era, much has been made of the need for sharing intelligence in the war on terror, and a lot of emphasis has been placed on the desirability of interfaith dialogue between Christians and Muslims. But comparatively little attention has been paid to a crucial component of intercultural cooperation on the key global security issues facing the world today: that between and among the United States, Russia, and China. This book examines key security issues of the day from the perspectives of those three powers.
From an American perspective, Russia represents an erstwhile enemy of the Cold War era who has the potential to become an ally, while China is poised to become either an enemy, an ally, or an economic rival, depending on whom you listen to. From a Russian perspective, the United States is a former ally during World War II turned Cold War enemy turned lone superpower, with the potential for cooperation and conflict, while China has always embodied both ally and rival, even during the Communist era. To the Chinese, who have had rivalries and cooperative relations with both powers, the United States is currently a valued supplier of both raw materials and a vast market for Chinese goods, while Russia and the United States are rivals in the scramble for influence in the Middle East and elsewhere.
With such a complicated history and with a future fraught with all sorts of possibilities, how can these three key powers cooperate in managing and responding to global security threats and terrorism? This book examines key issues of the day, including the threat posed by al Qaeda, WMD, energy security, environmental security, ethnic and religious conflicts, and a nuclear North Korea, from the perspectives of the United States, Russia, and China. Each chapter is written by scholars from at least two of the three countries. In this manner, the book embodies that which it seeks to demonstrate, becoming in itself an artifact of intercultural cooperation in the new international security environment.
Other Details
Publisher: Praeger
Dimensions: 6.20 (w) x 9.30 (h) x 0.80 (d)
Pages: 228
Date Published: 2008
Authors: Paul J. Bolt (editor), Su Changhe (editor), Sharyl Cross (editor)